The #3 Rated Menopause Product: Avlimil
Avlimil - #3
Menopause Product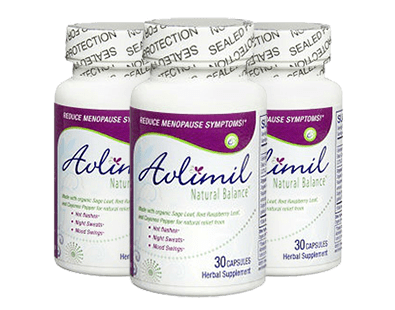 Supplement Facts
Serving Size: 1 Tablet
Servings Per Container: 30
Amount Per Serving
%DV
Genistein
54mg
Black Cohosh Root Extract (NLT 2.5% Triterpene Glycosides)
40mg
2.5%
Proprietary Blend
Organic Sage Leaf, Organic Red Raspberry Leaf, Organic Cayenne, Organic Damiana Leaf, Organic Ginger Root, Organic Licorice Root, Organic Valerian Root
611mg
*
* Daily Value Not Established
Avlimil Menopause Relief does have some useful ingredients which can take care of some of the major symptoms associated with menopause. It is relatively good value, and on par with similar products albeit we felt that they could have added other important ingredients such as calcium which works to maintain strong bones.
EDITOR'S RATING
31 User Reviews
Introduction
Avlimil Menopause Relief is an all-natural, herbal supplement that helps alleviate the symptoms associated with the challenging condition of menopause. Every women is different and of course, experiences menopause differently. Some of the typical symptoms include hot flashes, night sweats, sleep disturbances, reduced libido, mood swings, anxiety and irritability. Severity of symptoms can fluctuate and differ between day and night when our body needs different levels of support. The makers of Avlimil suggest that their product offers hormonal balance and menopause relif without the use of artificial or synthetic estrogen.
The manufacturers of this product suggests that this supplement starts to show positive effects in as little as 10 days time, but the complete effect is visible only after 60 to 90 days of use. That said, we do not like this type of guarantee without studies that back up such claims.
If you would like to learn more about this product, please keep reading this review to discover all the facts about Avlimil.
Ingredients
Each capsule contains the following ingredients:
Genistein

(soy isoflavone) – Soy isoflavones mimic the effects of estrogen and have positive effects on the health of menopausal women. It helps reduce hot flashes, night sweats, loss of bone density and also keeps cardiovascular system healthy.

Black Cohosh

root extract – Contains phyto-estrogen that relieves symptoms occurring due to lack of estrogen like stress, cramping, and other menopausal symptoms.
Organic sage leaf extract (Salvia officinalis) – Keeps the mind fresh and alert, enhances ability to concentrate. Also relieves hot flashes and night sweats.
Organic Red Raspberry leaf (Rubus idaeus) – Keeps uterine muscles healthy and regulates menstrual flow.
Organic Cayenne pepper (Capsicum annuum) – Maintains proper circulation and energy levels. Also contains antioxidants and Vitamin C, which delay ageing.
Organic Damiana leaf (Tumera aphrodisiaca) – Restores hormonal balance and also acts as an aphrodisiac.
Organic Ginger root (Zingiber officinale) – Reduces uterine spasms and cramps, relieving pain.
Organic Licorice root (Glyrrhiza glabra) – Helps other ingredients work better.
Organic Valerian root (Valeriana officinalis) – Relaxes the mind and body, relieves sleeplessness and soothes irritable moods.
Other ingredients: Organic brown rice flour, magnesium stearate, silicon dioxide
Dosage
This is a one tablet a day supplement.
Price
A 30-day supply bottle is priced at $29.95. However, a 90-day supply costs $89 and a 6-month supply costs $149. So, the effective monthly cost can be as low as $24.83. The manufacturers of Avlimil offer an option to sample the product for 30 days by paying just 9.95 shipping handling. In short, we suggest that you read the small print as many companies are incredibly keen to get hold of your credit card details and even when you don't want o continue, will keep billing you. We say, be aware of such marketing practices.
Guarantee
The company offers a 60-day return policy on all unopened packages but not on opened bottles. The supplement is manufactured in adherence to the regulations set out for dietary supplements by the FDA.
Conclusion
Overall, Avlimil is a relatively good product containing some good ingredients which seem to be promising in terms of addressing the symptoms of menopause. In terms of price we found it to be pretty much on par with similar products but for about the same price range, we did find others that contained far more ingredients to combat a wider range of symptoms. One of our main concerns was with the free trial offer that this manufacturer provides, our experience suggests that this not always be as clear cut as it seems and would strongly recommend reading the small print from their website before placing an order.
On the plus side the company provides a 60 day money back guarantee however, it does not cover opened bottles of Avlimil so has an element of risk involved in terms of losing your money if it doesn't work for you as you had hoped. We would like to have seen more testimonials to be able to ascertain whether or not this is a good product received well by consumers.
As you can see, there are pros and cons for this product. It could be worth a try, just weight up all the good and bad elements associated with this product before you order.
Click here to learn more about our top menopause treatment products.
Jackie Horowitz
reviewed on and gave it a rating of
3
.