The #2 Rated Menopause Product: Menozac
Menozac - #2
Menopause Product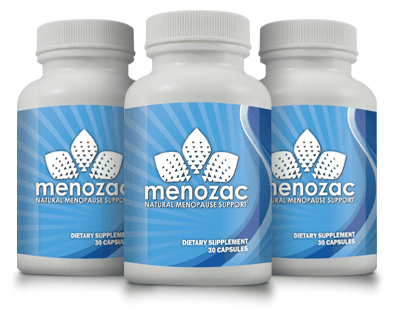 Supplement Facts
Servings Size: 1 Capsule
Servings Per Container: 30
Amount Per Serving
%DV
Vitamin E (as d-Alpha Tocopheryl Acetate)
15iu
Soy seed (Glycine max), Black Cohosh root (Cimicifugaracemosa), Damaiana leaf (Turnerna diffusa)
550mg
*
* Daily Value (DV) not established
Other Ingredients: Magnesium Stearate, Gelatin, Microcrystalline Cellulose, Silicon Dioxide, Water.
Menozac contains phytoestrogens that address the symptoms of menopause. It's not a bad supplement; however, unlike our leading product, Menozac does not have a wide list of ingredients that address other menopause symptoms such as progesterone loss, calcium to help with bone loss, or sleep loss.
EDITOR'S RATING
38 User Reviews
Introduction
This is going to be a review for Menozac. Menozac, while still a decent menopause alternative, is ranked at the #2 slot because it doesn't offer as many benefits as our highest ranked product.  Menozac does provide some relieve for a number of symptoms associated with menopause, and it does so naturally, using a blend of phytoestrogen botanicals and no artificial ingredients. Overall, although Menozac will help lessen the impact of menopause symptoms, it may take as long as a week to notice any real difference in the way you feel and before you begin to feel "normal" again. The biggest downside of Menozac, however, is that it doesn't relieve all the symptoms of menopause, and it is designed to work primarily during the day on symptoms such as mood swings and hot flashes. If you are interested in learning more about this product, please keep reading.
Ingredients
Menozac contains four active ingredients that work together to reduce menopausal symptoms. The active ingredients are black cohosh, damiana lead, soy seed and vitamin E. For decades, these ingredients have been used by alternative medicine experts to relieve the symptoms experienced by menopausal women. Other ingredients contained in the Menozac capsule are: Magnesium Stearate, Gelatin, Microcrystalline Cellulose, Silicon Dioxide and Water.
Dosage
The recommended dose for this dietary supplement, is for menopausal women to take one capsule daily with a meal and plenty of water, or as directed by a doctor.
Possible Side Effects
As with any product, you should first consult with your doctor before taking a dietary supplement. The ingredients are all natural so side effects are very unlikely.
Price
Directed to another page where the product was not found. In a retailer's website, we found it for:
6 Bottles – Menozac $299.95 reduced to $149.95 (Buy 3 Bottles and get 3 FREE)
3 Bottles – Menozac $149.95 reduced to $99.95 (Buy 2 Bottles and get 1 FREE)
1 Bottle – Menozac $49.95
Guarantee
The company provides a 90 day return policy. While they wish for the customer to be pleased with the product, the customer has no way of being able to try this product without losing their money, even just part of it. Their return policy is only effective for unopened or unused products. Not only that, you are not reimbursed shipping and handling fees and there is a $10.00 restocking fee for returns. There are plenty of reviews for this product. All are generally positive and have stated this product while provided results, was still gentle.
Conclusion
On the surface, Menozac seems to be a fairly decent product. There are plenty of positive reviews for this product and discounted prices for certain packages. However, while the product may seem solid, there are somethings to consider before you order this product. Menozac is made from all-natural ingredients. The key ingredients of Menozac are clinically proven to be effective in relieving menopausal symptoms. There are no known side effects from taking the product and it comes with a 90-day money-back guarantee. However, there are no free samples of Menozac offered. The website doesn't offer complete information regarding the product and although Menozac is made from ingredients that are clinically indicated to be effective in relieving menopausal symptoms, there is no clinical trial on the effectiveness and safety of this particular product. This is why it is not certain if this product is really safe or effective.
Click here to learn more about our top menopause treatment products.
Jackie Horowitz
reviewed on and gave it a rating of
3
.