The #1 Rated Menopause Product: MenoClear
MenoClear - #1 Top Pick
Menopause Product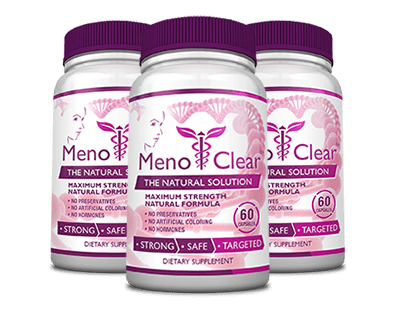 Supplement Facts
Servings Size: 2 Capsules
Servings Per Container: 30
Amount Per Serving
%DV
Vitamin E (as DL Alpha Tocopheryl Acetate)
2mg
13%
Zinc (as Amino Acid Chelate)
4mg
36%
Rose Root (Rhodiola rosea)
440mg
†
Black Cohosh (Cimicifuga racemosa)
400mg
†
Chasteberry Powder (Vitex agnus-castus)
200mg
†
Red Clover Powder (Trifolium pratense)
200mg
†
Passion Flower Powder (Passiflora incarnata)
100mg
†
Soybean Lignans (Glycine max)
100mg
†
Wild Yam Root (Dioscorea opposita)
70mg
†
Soy Isoflavones (Glycine max)
50mg
†
DIM (as Diindolylmethane)
30mg
†
Boron (as Boron Citrate)
10mg
†
Protykin® (Polygonum cuspidatum)
4mg
†
† Daily Value (DV) not established
Other Ingredients: Vegetarian capsules (from vegetable cellulose)
We have bestowed MenoClear our #1 Award as we feel it is clearly the most comprehensive and effective menopause supplement on the market. MenoClear was designed by doctors who researched each ingredient in detail to find the ones which were best at alleviating menopause symptoms.
EDITOR'S RATING
59 User Reviews
Introduction
This is our in-depth review of MenoClear. This product is very popular and for good reason. This is a great quality product, which ticks all of the boxes in terms of quality, research and results. This is by far, the best formula we have reviewed for treating menopause. The manufacturers state that MenoClear aims to provide a maximum strength natural solution for menopause. It is the only product that we reviewed that was available in both a Day and Night formula, promising relief from even the most persistent menopausal symptoms.
MenoClear claims to be the most effective menopause treatment available. We give MenoClear our highest rating for many reasons. First, it contains an exclusive daytime and separate nighttime formula. Our bodies react and perform differently during the day than it does at night. Your menopause formula should be able to adapt to these changes while still helping to maintain a healthy balance.
Second, women want immediate results when searching for relief. Numerous users of MenoClear reported feeling some relief in only two or three days. Studies have shown that MenoClear addresses a number of symptoms that women frequently experience during menopause: hot flashes and night sweats, inability to concentrate, irritability decrease in libido, vaginal dryness, mood swings, fatigue, and insomnia. MenoClear fights all these symptoms 24 hours a day.
Third, MenoClear is safe. Designed to help the body stabilize its hormonal balance, MenoClear contains only high quality, all natural ingredients. It was developed by a team of scientists and doctors in order to provide women more comfort during this transition in their lives. The list of ingredients includes, among other things, Black Cohosh, Protykin, 5 HTP, ammonium succinate, and DIM; all of which are proven safe to take over the long term. These ingredients all work together to help treat symptoms as well as to prevent those symptoms from reoccurring.
Finally, MenoClear can be safely used long term by women who suffer from premenopausal symptoms such as mood swings, fatigue, headaches, and weight gain, is one more reason it is our highest ranking menopause product. MenoClear allows women to regain the healthy hormonal balance their body needs and to generally feel better. Continue reading to learn more about the differences between the Day and Night formulas.
Ingredients
The active ingredients in the day formula are:
Protykin® – Patented high potency 200:1 standardized Polygonum cuspidatum extract.

Black Cohosh – Contains analgesic, anti-inflammatory and sedative properties to reduce hot flashes.

Roseroot – Improves memory, concentration and helps fight fatigue and mood swings.

Passiflora Extract – Improves restlessness, irritability, anxiety and difficulty sleeping, caused by low levels of estrogen.

Chasteberry – Helps alleviate mood swings and balance a woman's hormonal system.

Red Clover – Reduces hot flashes, increases bone mineral density and improves the circulation of blood.

Soy Isoflavones – Stimulates bone formation, helps lower cholesterol and prevents hot flashes.

DIM (Diindolymethane) – Improves the hormonal balance in women's bodies by shifting the way that estrogen is metabolized.

Soy Lignans – Helps treat hot flashes and night sweats associated with menopause.

Wild Yam – Balances the equilibrium of hormones. Used to treat hot flashes and vaginal dryness.

Boron – Increases estradiol levels in postmenopausal women and increases concentration.

Tocopheryl Acetate – An important antioxidant that helps treat hot flashes and maintain cardiovascular health.

Zinc – An essential trace element used to boost the immune system and help treat osteoporosis.
The active ingredients in the night formula are:
Valerian Root – Contains sedative and anxiolytic effects that help combat insomnia and reduce hot flash frequencies.

Ammonium – Provides relief of hot flashes and restores the hypothalamus to renew the hormonal balance.

5-HTP- An amino acid that has sedative effects, used to combat insomnia and depression.

Hesperidin – Helps alleviate hot flashes and assists in treating inflammation and cell damage.

Passiflora Extract – Improves restlessness, irritability, anxiety and difficulty sleeping, caused by low levels of estrogen.

Glycine – An amino acid that improves memory, concentration and the quality of sleep.

Magnesium – Helps regulate diverse biochemical reactions in combating insomnia and mood swings.

Calcium – Helps maintain bone mass, prevent bone loss and treat the decaying effects of osteoporosis.

Potassium – Reduces hot flashes, anxiety and headaches. It is also important in cardiac health.

Melatonin – Natural sleep hormone, effective in regulating sleep cycles and the female menstruation cycle.
These natural ingredients are primarily herbs which have been used to treat the symptoms of menopause and other conditions. They are further supported by substances such as 5-HTP, which has a distinguished track record of effectiveness. The two formulas are different because the body requires different types of help in the evening than during the day. Also, some substances are indicated specifically for nighttime use. Melatonin for example, is a natural substance your body can produce, though it often doesn't make enough. It should be taken in the evening as it lends its best efforts to ensuring a healthy natural sleep. For that reason, while not essential, the Night formula is recommended, as it contains ingredients that are geared to evening use and may contribute significantly to a good rest and relief of nighttime symptoms.
Dosage
Recommended use:
The ingredients contained in MenoClear™ are all natural, so long term use should not present any problems.
Adults take 1 capsule in the morning and 1 in the afternoon of the Day formula.
Adults take 1 capsule of the Night formula before bed.
Possible Side Effects
As the ingredients are all natural, if you follow the recommended dosage, then MenoClear should not interact with medications, but it is best to check with a doctor or pharmacist if you have concerns.
Price
MenoClear is offered in a variety of packages, ranging from a one bottle "Starter Package" to a 6 bottle "Best Value Package". There are options for purchasing both Day and Night formula. On their website, the regular list price for a single bottle is $49.95. However, huge discounts are available for multiple purchases. The 6 months supply is the best value with a saving of $284.
Guarantee
MenoClear comes with a surprisingly strong 60-day money back guarantee. If you are dissatisfied with this product at any point during the 60-days following the purchase date, the manufacturer allows you to return any containers for a full refund – even if they are opened. All the customer is responsible for is the shipping cost to return the product. The generous return policy makes the multi-bottle packages that they offer a tempting deal, as you will be able to send them back at any point if you decide you do not like them. We should also mention that the customer feedback and excellent customer reviews leave us in no doubt that this is a significantly effective product.
MenoClear has been reviewed by customers on the product website and elsewhere online. The vast majority of the reviews are positive.
Conclusion
MenoClear is a great product. Both the Day and Night formulas are packed with beneficial ingredients. Customer reviews and testimonials are enthusiastic and the product is growing in popularity every day. Given the choice of purchasing a single bottle or choosing both the Day and Night formula together, it appears that most people take advantage of the discount pricing and opt for both. With a 60-day customer satisfaction guarantee, there really is no reason not to.
Jackie Horowitz
reviewed on and gave it a rating of
5
.