The #5 Rated Menopause Product: Balance Point
Balance Point - #5
Menopause Product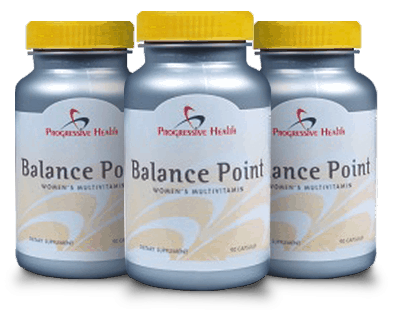 Supplement Facts
Supplement Facts not Available
Balance Point is relatively good at alleviating many of menopause's symptoms, but it's is actually more of a multi-vitamin for women of menopause age. This is why we gave it our number five rating.
EDITOR'S RATING
24 User Reviews
Introduction
Here is a review for Balance Point. This is a multivitamin which the manufacturer states helps fulfill gender-specific nutrition, provide superior anti-aging cell protection from free radicals and support eye, bone, hormone, and immune health. According to the manufacturer this product contains 40 different vitamins, 11 antioxidant protectors. minerals, and herbs specifically targeted  to pre-menstrual and menopausal women during times of hormonal variations. It also helps to protect against the possible onset of anemia and to maintain urinary tract health. It is formulated to deliver health needs: from anti-aging to hair health; skin and nail protection; nutrition for maintaining and increasing bone mineral density.  If you are interested in this supplement, keep reading this review to find out more.
Ingredients
This product contains the following ingredients:
Vitamin A

Vitamin A  

Vitamin C  

Vitamin D

Vitamin E  

Vitamin K  

Vitamin B1  

Vitamin B2

Vitamin B3  

Vitamin B6

Folic Acid

Vitamin B-12  

Biotin

Vitamin B5  

Calcium

Iron  

Iodine  

Magnesium

Zinc  

Selenium

Copper  

Manganese  

Chromium

Molybdenum

Chloride  

Potassium  

Silica  

Vanadium  

Boron  

Choline

Inositol

Calcium D-Glucarate

Green Tea Extract

Citrus Bioflavonoids  

Alpha Lipoic Acid

Red Bean  

Blueberry   

Cranberry   

Chaste Berry Extract  

Lutein

Zeaxanthin
Other Ingredients: Vegetarian Capsule (Hypromellose), Rice Powder, Magnesium Stearate.
Dosage
Daily Dosage: As a dietary supplement, take two capsules in the morning and one capsule in the afternoon with 8 ounces of water.
Possible Side Effects
There are no listed side effects but we advise that you consult a medical professional before initiating use.
Price
The price for this product:
One Month Supply $47.00
Buy Three Get One Free $188.00 discounted to $141.00
Buy Four Get Two Free $282.00 discounted to $188.00 and free shipping
Guarantee
The company states it has a 100% customer satisfaction money back guarantee for 180 days (minus the shipping costs).
Conclusion
Balance Point is relatively good at alleviating many menopausal symptoms, but it is actually more of a multivitamin than anything else. This is why we gave it our number five rating. We did like the fact that it has minerals, vitamins and antioxidants and that it is backed by a money back guarantee. However, there are some factors which may cause an issue for some new customers. The lack of customer reviews is the main drawback. If this product is as good as the company claims to be, there would be some sort of review somewhere yet, even after thorough research, we could not find any review or customer backing for this product on its web sites or on retailer sellers. If the product targeted menopausal symptoms more directly, and added consumer feedback, we could move it up in our scale.
Click here to learn more about our top menopause treatment products.
Jackie Horowitz
reviewed on and gave it a rating of
3
.