The #4 Rated Menopause Product: Promensil
Promensil - #4
Menopause Product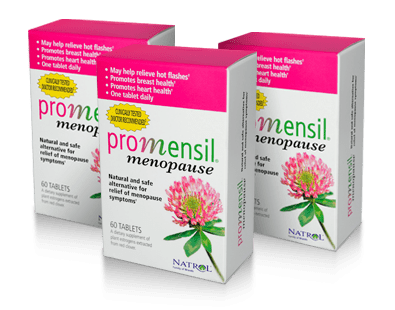 Supplement Facts
Servings Size: 1 Tablet
Servings Per Container: 60
Plant Estrogens (Isoflavones) (as red clover extract)
40mg
* Daily Value not established
Other Ingredients: Red Clover Isoflavone Extract, Dicalcium Phosphate, Microcrystalline Cellulose, Magnesium Stearate, Mixed Tocopherols (Natural Vitamin E), Silica, Soy Polysaccharide, Dextrin, Dextrose Monohydrate, Lecithin (Soybean), Sodium Carboxy Methyl Cellulose, Sodium Citrate.
A beautiful pink flower coupled with delicately green leaves showcases the cover of a menopause supplement claiming to promote breast, heart and emotional health.
EDITOR'S RATING
25 User Reviews
Introduction
We are going to take a detailed look at the product called Promensil. Beautiful pink flowers coupled with delicately green leaves showcases the cover of this menopause supplement claiming to promote breast, heart and emotional health. Also among the claims of Promensil is its potential to maybe help with hot flashes, a common symptom of menopause. While some customers have stated negative comments towards this product, others have deemed it the greatest. Therefore, due to Promensil's success, let us take a closer look at its components.
Ingredients
Promensil Menopause Support contains the following ingredients:
Calcium

Red Clover Extract

Isoflavones

Cellulose

Soy Polysaccharides

Silica

Magnesium Stearate

Hypromellose

Polyethylene Glycol

Gum Acacia

Mixed Tocopherols
Dosage
Users of Promensil are encouraged to take 1-2 tablets every day with a meal. There are no specifications as to what time of day this dosage needs to be consumed.
Possible Side Effects
Although the manufacturer of Promensil states nothing concerning side effects, some have been listed by reviewers. While these conditions may be rare, new users must be aware that the following could occur:
Increased night sweats and hot flashes
Headaches
Facial numbness
Muscle Weakness
Price
Promensil is not sold through its web site. You can purchase it in retail stores or through Amazon.
When ordering Promensil from Amazon, customers are given the option of purchasing one of two packages. A 30 tablet package, equivalent to a 15-30 day supply, is priced at $14.21. Customers can also purchase 60 tablets (a 30-60 day supply) for $35.95. There is a $5 off coupon that can be downloaded from its web site to be used in retail stores. It is unclear if this is also redeemable through Amazon.
Guarantee
After researching this particular product, it is concluded that no guarantee accompanies any purchase. A company should always provide some form of a guarantee for their customers as this creates security for those skeptical about a purchase. There are currently no reviews for this product on the website. We found some negative reviews on retailer sellers, stating various side effects.
Conclusion
Promensil seem to be a healthy way to relieve hot flashes and  promote a healthier body during the stages of menopause.  It contains three important key ingredients, however it also contains many inactive ingredients that we are unsure about. We would have liked to have seen more clinically proven ingredients included in its formula. More importantly, there are no reviews on its websites and the manufacturer does not provide a money back guarantee. We did find some reviews on retailer sellers which were mostly negative and that cited various side effects. The lack of customer reviews, negative feedback and no refund policy, left us no choice but to place this product in our #4 spot.
Click here to learn about our Top Menopause Treatment Products.
Jackie Horowitz
reviewed on and gave it a rating of
3
.